Going to Ibiza with my hippie bags!
Do you know the hit song I'm going to Ibiza from the Vengaboys? It was made by a Dutch band and was the number one Summer hit of 1999. If you don't know it, please listen to it, to get the Summer vibe of this Spanish Island. But what is it that makes this small place in The Mediterranean so popular with celebs and why is the Ibiza style for clothes, bags and other accessories so famous that it's known all over the world? I'm going to try to find out and give the explanation to you.

Hippie Island
In the sixties, after artists and writers, also many hippies went to Ibiza. They wanted to live a free life on the outskirts of Spain, the country where dictator Franco ruled. People came to the Island to dance, sing, eat and smoke weed. They started their own communities and lived their own ways.
In the eighties the island changed and the dance music became very important. DJ's as Tiesto, Avicii, Armin van Buren and many others performed regularly on this dance Island. Nowadays it still is a party Island with many clubs and discotheques and is very famous with celebrities
​But the real hippies stayed!

Hippie Ibiza style
And that is why the Ibiza style which is known by the multi colored clothes, bags and other accessories is so famous and known in all countries. At the end of the sixties and in the seventies the hippie and Flower Power style became a fashion trend worldwide. Bright colored fabrics, flowers in your hair, big bead necklaces and fringes typify this style. And because the hippies stand for freedom, the peace sign is very important. And not to forget: they travelled around in a hippie van. All these characteristics you recognize in ths style.
I'm sure you know what I mean, but I made a mood board to give an overview.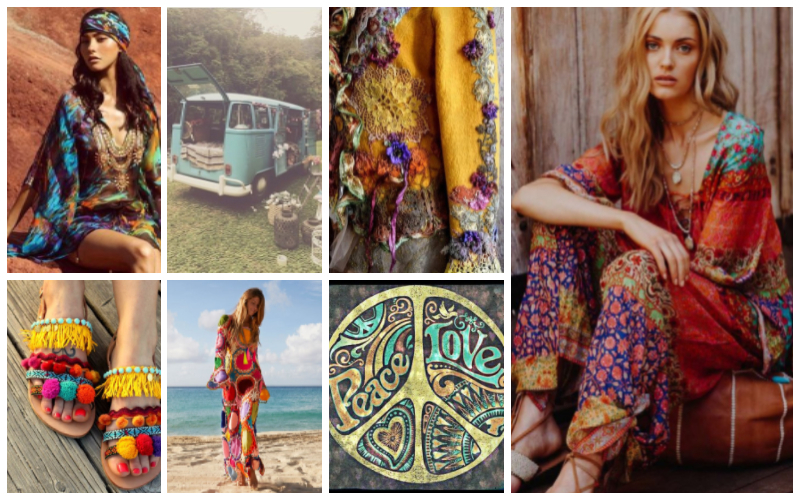 ​Festivals
​This cool style also is very popular on festivals. The historic Woodstock festival in 1969 was one of the first hippie festivals in the world. Nowadays the famous Coachella festival which is organized every year is the representative of the hippie Ibiza style. Take a look at Instagram and you'll see the most beautiful pictures of beautiful styled people. I found some for you.


My inspiration
​​Mostly when I write in my blog about places or countries, I've been there by my own and got the inspiration right there. But to be honest, I've never been to Ibiza! But I really am inspired by this style. Is it because I was born in the sixties and my mother crocheted a colored cardigan for me? Or is it the fact that I had a suede jacket with flowers and woolly fringe? I don't know why, but I love this style and you can see it in many of my bag designs. Check these examples of some multi colored and Flower Power bags:
Go to see all Ibiza bags here!
I hope you enjoyed this blog post again and you can't wait for he new one...
Alice Loopeker